x
Congratulations on Signing Up for the Simplest most Powerful Compliance tool ever developed. You will receive a confirmation email shortly
Property Compliance Services & Software
MYCOMPLIANCE.ME
MyCompliance.me is the simplest and most powerful compliance tool available in Australia.
Watch the video
Simple
Designed to be ultra user friendly, compliance has never been easier
Powerful
Produce visually stunning, comprehensive reports in seconds
Intuitive
The intuitive interface is super easy to use and mastered in moments
Automated
Automatically organises, notifies, follows up and reports on compliance tasks
MyCompliance.me - the cutting-edge of property compliance
MyCompliance.me is the most sophisticated management compliance software suite on the Australian market
It allows you to view, track and report on compliance information in seconds
It lets you monitor 100's, 1000's or 100,000's of sites from anywhere
It comprehensively automates compliance administration
MyCompliance.me eliminates compliance double handling
Compliance Software Made Outrageously Simple
The MyCompliance.me platform provides simple click and tick reporting, auditing and compliance submission
It uses an intuitive traffic light interface
It provides automatic notifications, scheduling and archiving of all compliance information
It manages remote and multisite portfolios with ease
MyCompliance.me is equally simple for seasoned professionals as it is for tech savvy juniors
Immediate Savings
MyCompliance.me provides immediate management savings
Immediate IT savings
Immediate administration savings
Immediate visibility of all assets compliance status in real time
Immediate and long term efficiency savings
Tremendously Powerful
MyCompliance.me allows you to audit 1000's of sites in seconds.
An advanced property compliance tool, it allows you to generate comprehensive, professional & engaging reports in a few clicks.
It is equally powerful in the office or in the field.
It provides automated compliance reports directly to your inbox.
Its simple powerful filters allow you to see only what you need to see.
A property compliance tool you will love to use
MyCompliance.me is mastered in moments
Click and tick your way through compliance & reporting
It is colourful and engaging
It generates reports in seconds
Submit annual compliance reports & supporting documents in less than 30seconds.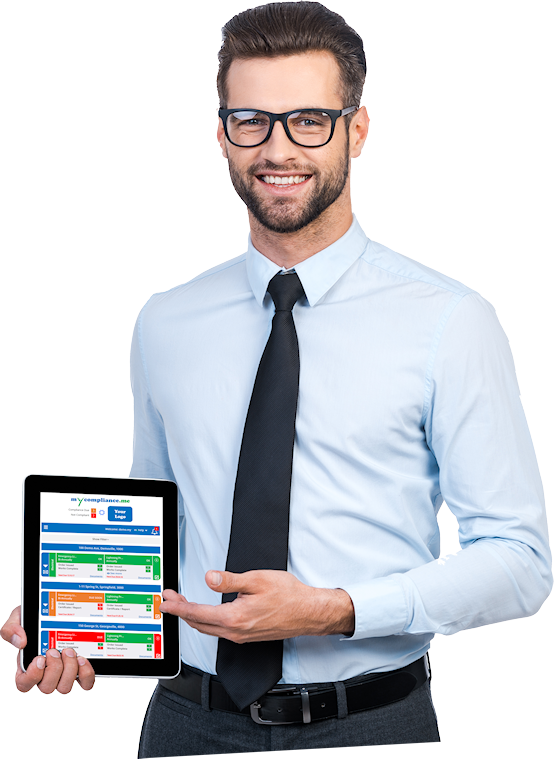 Incredible Live Reports
MyCompliance.me generates Live PDFs and Excels with clickable links to all site records
Relay information effortlessly and instantly to clients
Designed by graphic professionals and organisational psychologists to be simple, engaging and intuitive
Schedule live reports to your inbox, client or colleague
Simple, brilliantly organised layout relays only the information you need
Your Personal Assistant
MyCompliance.me Notifies you and your supplier when a task is due
It reminds you and your supplier as the due date approaches and increases reminders on past due
It manages supplier delivery via an intuitive supplier portal
It structures the delivery of supplier information by accurately labelling, recording, filing and archiving information according to the site and task
It delivers professional detailed reports directly to your inbox
Minimizes Risk
MyCompliance.me eliminates information overload
Definitively eliminate double handling and unstructured information being communicated in emails
Eliminate the burden of information being tied to staff who are unwell, unorganised or who have moved on
Dramatically minimize risk of non-compliance and penalties
Accurately predict resource requirements
Manages Staff and Suppliers
MyCompliance.me provides automatic notifications for managers and suppliers
Repeat notifications encourage on time completion of compliance requirements
Full document control timestamps, labels, organises and password protects incoming and outgoing information
Staff and contractor performance is monitored
Simple click to approve received information
Never be Overwhelmed again
MyCompliance.me provides instant structure and clarity
Eliminates dependence on calendars, spreadsheets and emails
Automatically categorises and sorts information into logical parts
Dramatically reduces employee frustration and turnover
Significantly improves supplier and employee performance
Exceedingly Customizable
Easily customize ANY or ALL parameters
Create custom templates for your organisation
Setup automated reports directly to your inbox
Invite suppliers to upload documents in seconds
Turnkey setup service
Mycompliance.me © 2023. All Rights Reserved.